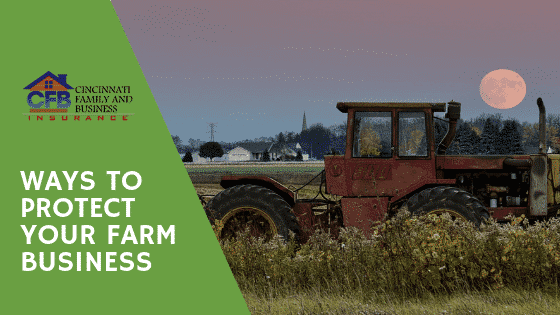 Starting a farm business is an exciting experience, especially if you are passionate about farming. There are hundreds of reasons to invest in agriculture. For instance, if you invest wisely in poultry or cattle raring, you will gain good profits every year. However, in order to earn a good profit from your farm, you must maintain it properly and buy the right farming equipment. You should research before launching your farm, which will help you gain adequate farming knowledge. Moreover, it is advisable to install the proper security measures to protect your farm from criminals. For example, if you have hundreds of animals, vehicles and expensive equipment on your farm, you must put advanced security measures to deter burglars. Keeping your farm business secure will make it tough for robbers to steal your farming machinery, livestock and other essential items. This article provides six crucial ways that you can use to safeguard your farm.
1. Talk to an Experienced Farm Insurance Company
Every agricultural business that is profit-oriented requires farm insurance. The insurance will cover the livestock, crops, ranch and farm equipment. Therefore, it is advisable to consult a reputable farm insurance agent in your region. Once you tell your farming needs to a reliable insurance agent, he will recommend the right coverage for you. Some of the factors that the insurance companies consider include the number of livestock reared on your farm, the size of your ranch, type of tools and anticipated profits. Investing in the best coverage will give you peace of mind.
2. Install an Advanced Security System
Installing the best security system is another perfect method that you should use to boost security on your ranch. For instance, you should buy high-quality CCTV cameras and install them on your property. The cameras will help you see every activity on your farm from wherever you are. Furthermore, it is advisable to invest in a good lighting system. If you keep valuable machinery in your stores, you need an alarm to protect your property. In the event of a robbery, the alarm system will inform you and the nearest authorities.
3. Keep Vehicles, Tools and Machinery Safe
As a farm owner, protecting your equipment should be your top priority. Vehicles and farming machinery are expensive. Generators and other crucial tools can be stolen easily. Your stores and commercial structures should be well-built. You should lock away tools and vehicles that are not in use. However, apart from building good structures and fencing your farm, you need to consult a trustworthy insurance agent to recommend the best insurance policy to protect your machinery. With the right cover, even if thieves steal your tools, you will get compensated.
4. Invest in Equipment Breakdown Coverage
Tractors and other farming tools are likely to get damaged after using them for a long time. Even if you maintain and repair them regularly, they can still break down. Once they get damaged, your farming operations may get disrupted, which will affect the level of production. Therefore, it is advisable to consult your insurance agent to help you add the best coverage to your policy. The equipment breakdown coverage will cover your tools. Once they get damaged, you will get compensated. Your farming operations will not come to a halt.
5. Secure Your Livestock
As a farmer, you need to know that robbers can steal your animals, especially if you are grazing them far from your house. You should check the condition of the gates and fences regularly. The gates should remain closed all the time to keep intruders out. Moreover, you need to keep an accurate record of your animals. You can use earmarks, microchips and tattoos to identify your livestock. You can also take videos or photos of the most expensive animals. Your farm insurance should cover your livestock to avoid losses in the event of a robbery.
6. Invest in Product Liability Coverage
Agribusiness is one of the most profitable ventures in the modern society. However, in order to surpass your competitors in the industry, you must invest in the best policies. For instance, you need to invest in product liability coverage to protect your farm business. You need to understand that you are always liable for any service or product you sell or manufacture. As a farmer, you should approach a reliable insurance agent to help you assess the risks associated with your farming business. The insurance company will recommend the best policy to cover all those risks.
Lastly, it is advisable to digitize all your farming operations. You should record every item manufactured and sold by your company. Also, you should hire honest employees to run your ranch. Once you secure your farm and invest in the best equipment, your business will grow.