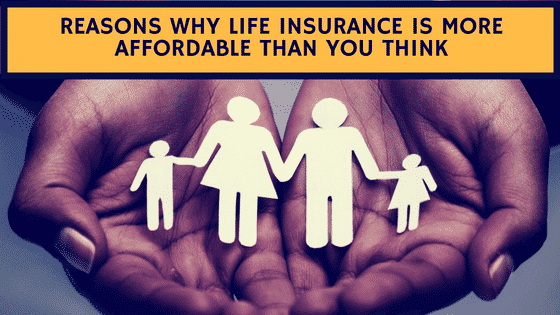 Life insurance is an important type of coverage that many people would benefit from. It provides you with essential benefits that can cover funeral costs, supplementation of lost wages and more. This monetary support may be essential for your loved ones' financial well-being after your passing. However, there is a general perception or assumption that this type of coverage is too expensive for the average person. You may not think that you can afford to make the monthly premium payment, or you may believe that the premium would be too high. Some people think that it would be better to simply save the money in an interest-bearing account on their own rather than to pay a premium. However, there are a few good reasons why life coverage is more affordable than you might think.
Lock in Low Rates Today
A life insurance premium is typically calculated based on several important factors. The primary factors are your age, your gender and your health status. The type of life coverage and the amount of the benefits are also relevant factors affecting the cost of life insurance. When you purchase coverage today rather than in a year or two, you have the incredible benefit of taking advantage of your current age. You are not getting any younger, and rates typically increase each year that you age. When you buy coverage, you lock in a rate for the remainder of the term. This means that if you buy coverage with a 30-year term when you are 25 years old, you will still be paying the same low rate when you are 53 or 54 years old as you did when you were 25. In addition, many people generally slowly decline in health over the years. It is reasonable in most cases to expect to qualify for better rates based on your health status when you are 25 rather 35 or 45 years old. When you hear other people discuss the premium on their insurance coverage, keep in mind that they may have locked in a rate based on reduced health or an older age than you may be able to lock in if you purchase coverage today.
Your Control of the Premium
In addition to your age and health, your coverage type and benefits directly affect the premium amount. Term coverage is a type of insurance that expires at the end of defined period of time. A 10-year term will have a lower premium than a 30-year term will have in many cases. There is also another type of coverage, known as universal or whole life, which extends for the remainder of your life. You will lock in the rate now for the remainder of your life, which can be advantageous to some people. However, the rates for this type of coverage are usually more expensive. In addition to controlling your premium cost based on the term of your coverage, you also have control over the cost through the benefits amount. You can realistically choose benefits that range between $10,000 to $500,000 or more, and the premium varies dramatically based on your coverage amount.
The Cost Associated with Not Being Covered
You can see that the premium amount for your life coverage is dependent on several factors that are under your control as well as several factors that may yield more affordable rates now rather than later. In addition to these points, keep in mind that there is a cost associated with not being covered. While everyone will reach the end of life at some point, there is no way to know when that day will come for you. Even individuals who are young and healthy can pass away from an accident, a sudden illness or something else. With the knowledge that death could come for anyone and at any time, you are taking a risk by not buying coverage. Consider the financial strain that your loved ones may feel if you were to pass away today.
The premium for life coverage will be another regular expense in your budget. This expense is not a requirement in the same way that groceries or your mortgage payment are requirements. However, you must plan ahead for the care and well-being of your family. There is never a question about if death will come. Instead, there is only a question about when death will come. With this in mind, you can see that it makes sense to purchase at least a modest about of life coverage sooner while you may qualify for lower rates.