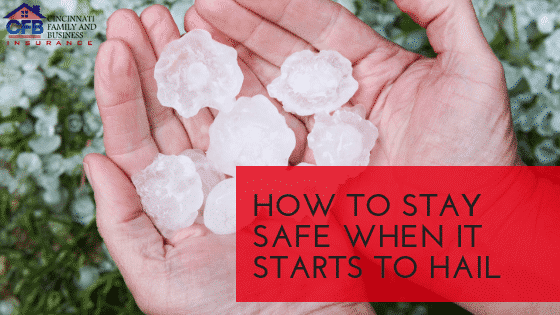 Hail can be a common form of precipitation in many parts of the world, it forms during thunderstorms. When the storm has windy updrafts, it can literally carry water droplets and these droplets may be frozen into hard pellets. This freezing process then creates what is known as a hailstone. Hailstones can be large or small. They can also grow as a result of additional frozen water as the added water clings to the hailstone. As this process continues, eventually the stone will grow too large for the winds to hold it up. When they are no longer able to keep it aloft, the stone, along with other stones, can fall to the ground suddenly. This kind of precipitation can be highly dangerous. It may come on quickly and unexpectedly without warning even in areas that rarely have such problems.
When Hail Strikes
As the storm continues, hail can hit an area fast and with great force. It can hit the ground as well as living things such as pets and children. At the first sign of such a storm, it's best to know how to stay safe when the storm continues outside. All people, even those who live in areas where it is uncommon, should know what to do if they see it and how to respond in order to avoid problems. There's no need to panic even if you are in the middle of a hailstorm. Fortunately, there many ways to avoid being hurt. Proper precautions and swift reaction can help all members of any party know what to do the instant they feel a hailstorm about to strike their area.
Seek Shelter
The first thing to do is look for shelter. If you're at the beach or a park of any kind, head to the nearest covered space. Bathrooms and public showers can serve nicely. They will keep the hailstones away from your head. If you're in an area where storms are common, you may see shelters specifically set up for this purpose. Make a note of them as you head to the beach. If you're on the road when the storm strikes, it's best to look for any shelter you can find. Hailstorms are frequently accompanied by heavy rain. Driving in heavy rain is very dangerous so it's best to slow down as much as you can. If needed, you should pull over as soon as you suspect this kind of precipitation is over your head. Hailstones tend to make the roads slippery and create potholes you might not see immediately. They can also cause unexpected ice as they are frozen. Any covered structure as the storm continues such as a storefront or a hotel lobby is a good choice that can help you stay safe even as the storm continues to pound overhead.
When Inside
Once you're inside, you may still be danger. Hailstones can shatter glass easily in an instant. You need to stay away from any windows and skylights when you're inside. If you have window coverings such as shades and shutters, now is the time to put them up. They'll help keep the hailstones away from the windows. They also help to protect your family and pets from any flying glass as they can catch the stones. These stones can also damage your roof and even create holes Holes allow the hailstones to hit you and hurt you. If possible, your best bet is to stay away from the roof. Heading to the basement or floors away from the roof is a good iea. If you have enough time, think about heading out to remove your vehicles to shelter. Put your cars in the garage. This keeps them safe from hailstones and avoids damage to the body and tires.
A Plan
Every member of the family should know what to do in case of a hailstorm. You should also have a radio or charged cellphone on hand at all times. This lets you check the weather. You can find out if the storm is stopping or it if will continue for a while. This way, you can figure out if you can head out again or it's best to stay inside.