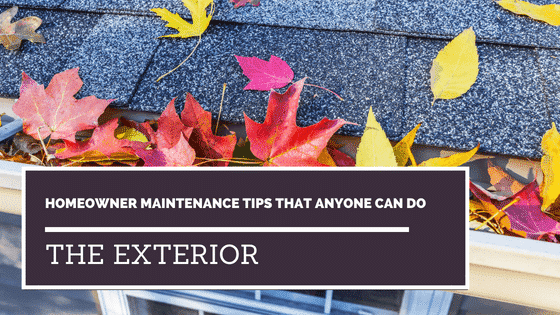 As you know, keeping your home in good shape is critical to its long-term health. Often, a homeowner can go for interior tasks because it is easy to remember and forget to maintain the exterior of their home as they think it doesn't affect them much. That is wrong. In fact, when you maintain the exterior of your house, it can help you to avoid interior related issues as well as keep pests, moisture, rots and decay away from your home.
Well if that sound news to you and you don't remember the last time you maintained your exterior, it's time to do it before the small issues become the significant repairs. Here are some homeowner maintenance tips that can get you started:
Roof, chimney and gutters
When maintaining any home exterior, homeowners should keep cleaning your gutters, roof and chimney a top priority. It is not hard, but if you are not comfortable with heights, you can hire someone else to do the work for you. You need to clean out the gutters, check for broken or cracked bricks in the chimney and power wash the winter grime from the roofs. Also check if there are any damage shingles, on your roof, reattach loose gutters sections and re-caulk skylight's leaking and weathered sections.
Walls
Inspect your wall to identify cracks or gaps in siding panels, broken sidings, and stucco. If you find any of the imperfections, you should reattach, scrape and paint any exposed parts. If you have vinyl siding, you can greatly benefit from power wash, and if it is a wood siding, it should be treated to protect it from elements.
Doors and windows
Look for broken screens, sticky locks, loose handles and hinges, and cracked seals. Make sure you check on the front doors which are often overlooked even though they are numerously used each day. Check the caulking that seals the gaps of the home siding and be cautious of the wood rots that often occurs because of water on the door thresholds, windows sills and the vertical kicks below the door.
Foundation
Foundation maintenance is vital to keeping your home dry and comfortable. If there are foundation cracks in your home, you might suffer from rodent troubles, leaks and insect infestations. To avoid this, you should always check your home's foundation for cracks twice a year. If you find any, fix them with a concrete patch as soon as possible. Make sure you have not left them unattended for too long because might result in more significant problems that require even more time and resources to repair.
Also, be cautious of large cracks, which could indicate structural problems. If found, it is better to consult a professional.
Drainage
Check the drains around your home, because all water that runs or meltdown has to go somewhere. If there are poor drains around your home, the water might end up in your house basement leading to moulds. To avoid this, fix it by sealing the broken path or adding an extension to the gutter downspout.
Vegetation
Vegetation can invite rodents into your home. To avoid this, you should make sure that no tree branches are hanging around your roof and damaging shingles. Also, make sure that no dense shrubs and other growth on your siding by keeping them at least two foot away from your home.
You should keep the trees around your home trimmed and remove dead branches that can fall and damage your home or injure someone.
Conclusion
As we conclude with our homeowner maintenance tips, you should know that owning a house comes with significant responsibilities. You should regularly check for any issue and fix them as soon as they arise to avoid bigger problems that you might require professional to help you find a solution.